Sunday March 2, 9:52 PM
NASA Debated Shuttle Risks for Five Days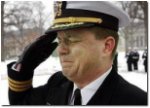 Before the Columbia broke apart, NASA experts debated over five days the risks to the space shuttle, moving from a telephone inquiry about tires to remarkably accurate fears focusing on the left wing.
Toward the end, engineers even identified with haunting precision which sensors might fail in sequence as the space shuttle raced through searing temperatures.
Dozens of pages of internal e-mails and other documents obtained since the Feb. 1 disaster offer a look at the inner workings of the $15 billion space agency.
They also show an advancing discussion that only reached an eerie prescience on the eve of Columbia's destruction. By then, William C. Anderson, a NASA contractor wondered in a message, "Why are we talking about this on the day before landing, and not the day after launch?"
The documents, mostly covering five crucial days in late January, also suggest a troubled lack of coordination across some parts of the agency during Columbia's flight:
Engineers for the Boeing Co., a contractor, assured senior NASA controllers there was "no predicted burn-through" by searing temperatures because of possible damage from breakaway foam on liftoff. Days later, two NASA engineers said a breach could occur if insulating tiles were damaged along part of the wheel compartment door. One of the engineers, John Kowal, worried about a "false sense of security." NASA has said all risks were considered.
Engineer Carlisle Campbell described the need for a spy telescope to look for possible damage to Columbia's wing tiles four days after others inside NASA canceled such a request. At the time, these agency officials told the Defense Department the shuttle was in "excellent shape" and that debris on liftoff was not considered "a major problem."
The shuttle's program director, Ronald Dittemore, said the day Columbia burned there had been no way to repair damaged tiles in orbit. But days before the breakup, engineer Robert Daugherty proposed sending one of Columbia's astronauts outside _ "even on a crappy tether arrangement" _ to hunt for damage. On Friday, NASA's top official said, "I completely reject the proposition that nothing could have been done."
Senior NASA officials acknowledge they were unaware of a debate taking place among their own engineers until weeks after Feb. 1. They have maintained that threats to the shuttle and its crew of seven astronauts were considered and properly assessed. They said none of these engineers or others waved a red flag to argue the shuttle was probably doomed.
"They vetted those questions, satisfied themselves there were solutions that could be found and determined if there was a safety-of-flight risk attendant to that, and determined there was not in their judgment," NASA Administrator Sean O'Keefe told lawmakers last week. He said the board investigating the Columbia might conclude otherwise.
Yet there are questions about whether top NASA officials adequately reviewed the concerns. A top spaceflight official, William Readdy, said last week he would have notified senior shuttle managers had he known about the worries.
E-mails showed Doug Dwoyer, a middle manager at NASA's Langley research center in Hampton, Va., brought safety concerns to the center's director, Del Freeman, and questioned whether Freeman should notify Readdy, the associate administrator for space flight. Freeman only told a subordinate to ensure the concerns were resolved.
"Would I have done something? You bet," Readdy said Friday. "If the Langley center director asked me something, just as part of due diligence I would have."
Readdy said he does not believe it would have changed Columbia's fate because of uncertainty by those engineers that something terrible was likely to happen.
Among these engineers, the earliest concerns _ raised in a telephone inquiry Jan. 27 from Campbell to Daugherty _ focused on the risks of landing Columbia on a runway with flat tires damaged by heat inside the wheel compartment. The debate advanced until the eve of the accident to focus accurately on concerns the spacecraft's left wing might burn off.
That is a scenario remarkably similar to the one investigators believe actually occurred in the sky over the Southwest.
"If there is a serious breach in the wheel well and we are concerned about the wheel (aluminum) properties changing to the point that wheel fails, then there must also be a concern with the wing structure, (also aluminum)," wrote flight controller Jeffrey V. Kling, in e-mail less than 24 hours before the accident.
In that case, Kling wrote, he would recommend the astronauts parachute from the stricken shuttle if it could slow down sufficiently and reach a safe altitude "assuming the wing doesn't burn off before we can get the crew out."
A shuttle mechanical engineer at Johnson Space Center, R.K. "Kevin" McCluney, in an e-mail hours later, described the types of sensor failures Columbia might experience if searing heat penetrated its wheel compartment: temperature rises for the tires, brakes and nearby landing gear systems. McCluney put the event occurring at a few minutes after the shuttle began its re-entry while flying about 200,000 feet high.
Investigators reported unusual increases in Columbia's brake lines about 10 minutes after its re-entry started as it raced toward the California coast more than 40 miles up. By the time Columbia soared over Arizona and into New Mexico, McCluney's other fears _ as described in his e-mail _ began to materialize: brake lines and gear actuators heating up, odd readings for tire pressure.
Inside mission control, as the first unusual sensor readings aboard Columbia were registered by controllers in Houston, one of them notified the flight director: "I've just lost four separate temperature transducers on the left side of the vehicle, hydraulic return temperatures," he said.
The voice was Kling's, who just 22 hours earlier had outlined the unfolding tragedy in four paragraphs of prophetic detail. He had concluded his note then to his fellow engineers with a single word: "Comments?"
Copyright © 2003 The Associated Press. All rights reserved. The information contained in the AP News report may not be published, broadcast, rewritten or redistributed without the prior written authority of The Associated Press.

AviationHistory.org shall not be liable for any errors or delays in the content, or for any actions taken in reliance thereon.